Instead of having to read/listen to my ramblings writing about something fitness related for this What I Ate Wednesday, I'm going to share the link love! Here are some of my favorite recent posts from around the web:
JillFit: 6 Reasons You Shouldn't Use Exercise as Your #1 Weight Loss Tool (This is a great article and a great reminder that weight loss is 90% diet!)
Honey, I Shrunk the Gretchen: Modesty, Validation, & Acknowledging Our Strengths (I need to re-read this everyday.  I constantly struggle with accepting validation)
Squat Like a Lady: On Fearing Hunger (Great post on a super interesting topic. I've struggled with hunger fear in the past and this post makes some great points)
Eating Bird Food: Backpack Kisses (These looks so amazing! Plus, I love all things Tosca)
Sweat Like a Pig: The Exercise You're Probably Not Doing  (I did these on Monday and my triceps are still screaming. Hurts so good)
If you have other articles/posts you read or you wrote something stellar, please share!
Now onto yesterday's eats…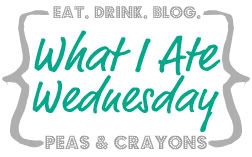 Pre-workout, post-workout: usual BCAAs
Meal 1: banana protein souffle muffin with pb and strawberries. These muffins are amazing – recipe will up on Friday!
Meal 2: apple and almonds, the usual
Meal 3: turkey meatloaf muffins with raw zucchini, red cabbage, carrot, and small sweet potato wedges. Topped with tons of red pepper flakes, naturally. (this was Monday's lunch since I forgot to snap a picture of my lunch yesterday!)
Meal 4: homemade 2% greek yogurt with half scoop protein powder, cinnamon, and unpictured PB
Meal 5: turkey bacon, kale, tomato (BLT) omelettes!
Meal 6: a little treat – small farmers market peach with cinnamon (I put insane amounts of cinnamon on everything) & square of dark chocolate
Tagged: fitness, healthy living, links, what i ate wednesday